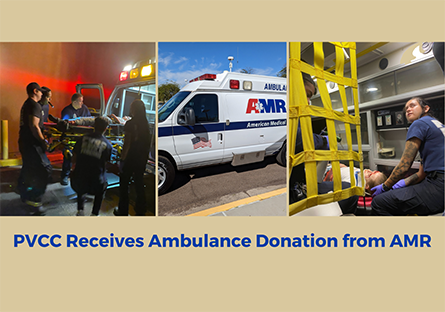 Representatives from American Medical Response (AMR) handed over the keys to a fully-equipped ambulance to Paradise Valley Community College's Emergency Medical Technician (EMT) and Paramedicine program. The ambulance will serve as a hands-on educational resource and recruitment tool for students interested in the field of emergency medicine.
"We are extremely grateful to AMR for this very generous gift," said Dr. Tiffany Hunter, PVCC President. "Their commitment to partnering with PVCC in educating the next generation of our workforce is truly valued."
 "American Medical Response (AMR), one of our great community partners, has graciously donated an ambulance to PVCC. This will be used to train and better prepare the EMT, Paramedic, and Fire Science students to be even more successful upon completion of their program. The ambulance will also play a pivotal role in our Integrated Health Science Center projects, where students from a variety of programs come together for integrated learning experiences," stated Kevin Taussig, Paramedic Education Program Director.
Simulations for an EMT student include getting the patient onto the stretcher and into the ambulance, stabilizing the patient, checking vital signs, administering medical drugs, and transporting the patient from the ambulance into the emergency room.
"We have already put it in service as we use it to enable students to practice emergency scenarios similar to what they will be doing as an EMT or paramedic professional. This experience will further prepare these students to be successful in the field once they leave our college," according to Kevin Taussig.
The PVCC Paramedicine Program continues to work closely with AMR. They are currently collaborating on the initiation of EMT cohorts specifically for AMR to help meet the needs of our workforce.