Thursday, November 10, 2022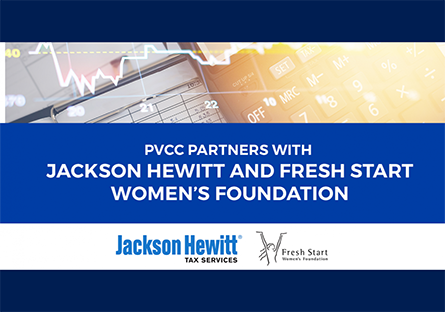 Paradise Valley Community College (PVCC) is partnering with Jackson Hewitt and Fresh Start Women's Foundation to expand the pool of highly qualified tax preparers. This strategic alliance between education, business and non-profit partners gives students the opportunity to acquire in-demand job skills and offers guaranteed interviews at Jackson Hewitt for Fresh Start women and PVCC students who successfully complete the Enrolled Agent program.
The Certificate of Completion (CCL) in the Enrolled Agent program at PVCC prepares students for the Enrolled Agent Examination. Enrolled Agents' expertise in the continually changing field of taxation enables them to effectively represent taxpayers at all administrative levels within the Internal Revenue Service (IRS). Students who successfully complete this CCL may also seek employment as tax professionals.
"I am pleased to announce our alliance with Jackson Hewitt and Fresh Start Women's Foundation," said Dr. Tiffany E. Hunter, PVCC President. "This program will position our highly qualified students for careers in tax, serve industry's need for trained talent and strengthen the local economy. As the second largest accounting firm in the country, Jackson Hewitt is providing an opportunity for our students and Fresh Start women to acquire job skills and immediately interview with an industry leader and to put those skills to work."
"We are immensely grateful for the partnership with PVCC and Jackson Hewitt. This alliance, with both a strong education partner and employer, gives the women Fresh Start serves a direct route to acquiring in-demand job skills and pursuing a new career path," said Fresh Start CEO Kim McWaters. "We know that you can lift a woman up by giving her access to education and job skills that will allow her to earn self-sufficient wages and support her family. That shift positively impacts her life, her children, and generations to come."
"With the current shortage of well-trained talent in the accounting industry and no foreseen slowdown in the demand for tax professionals, the Enrolled Agent Program is a great opportunity for ambitious students to jump into the industry and make an immediate impact," said Lynn Clark, PVCC Accounting Program Director and Certified Public Accountant (CPA). "An Enrolled Agent is a federally licensed tax professional and it is the highest credential awarded by the IRS. In just 12 to 18 months, you can complete the Enrolled Agent Certificate of Completion (CCL) and immediately begin a career in tax. PVCC's program also prepares students to take the EA examination."
To learn more about PVCC's alliance with Jackson Hewitt, visit www.maricopa.edu/jackson-hewitt and complete the inquiry form listed at the bottom.
To learn more about PVCC's alliance with Fresh Start Women's Foundation, visit www.maricopa.edu/FS.
Organizations interested in partnering with PVCC to create similar programs are encouraged to contact Dr. Brianna DeGeus, PVCC Executive Director for Strategic Partnerships at brianna.degeus@paradisevalley.edu.