Wednesday, November 23, 2022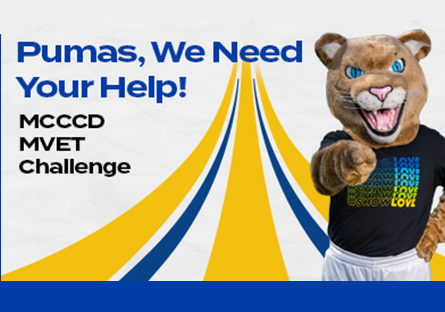 Calling all Pumas, friends and family! There is still time to show your pride and support our military veterans by participating in the 3rd annual MVET Challenge.
In honor of our veteran employees, students and families, Maricopa County Community College District is pitting our 10 colleges and district against one another in a friendly competition to raise awareness and support for our veteran community.
Rio Salado is the reigning champion and we here at Paradise Valley Community College aim to take them down and come out victorious. The challenge is determined by a point system and there are several ways to earn points for your PVCC team.
Join MVET, Become a Member (8 points each sign up)
For $20, become a member and stay up to date on MVET events. Sign up here!
Give your time or goods to your school's Food & Hygiene drive (50 points to 10 points for 1st, 2nd, 3rd, 4th respectively.)
Donate non-perishable food items for recently homeless veterans in need during the holiday season. All donations will go to the MANA (Marines, Army, Navy, Airforce) House, a peer-support organization of homeless and formerly homeless veterans. Contact PVCC staff Lance Miller or Shannon Monge to get involved.
Participate in the Landmark Scavenger Hunt
Do you like riddles? Want to see some cool Veteran landmarks or college landmarks? Solve the riddle, take a selfie of you at the landmark and submit it here. You can earn a total of 15 points for your college!
The challenge ends December 9 and winners will be announced at the End of the Year Celebration on December 10th before the Army vs Navy game at Gallagher's Sports Grill, 7575 N 16th St., Phoenix, AZ. The evening's football game will kick off with a tailgating event, noon to 5 p.m. Food will be provided and drinks on your own dime.