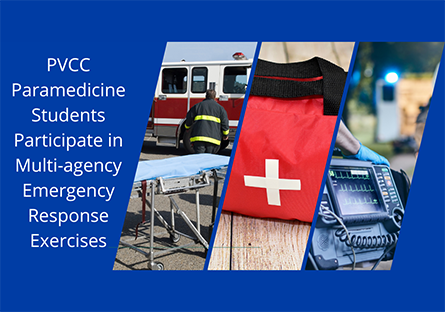 PVCC students continue to have the opportunity to work with Honor Health as they partner with multiple law enforcement agencies, medical emergency services and other organizations to offer full-scale emergency response drills. These comprehensive training exercises demonstrate active response capabilities, coordination and communication during mass shooting emergency situations, while identifying factors that may hinder successful coordination between agencies in the future. 
PVCC Paramedic Education Program Director, Kevin Taussig shared, "These events have been excellent learning opportunities for our students and have provided a unique hands-on learning experience. These multiple-agency emergency response exercises necessitate collaboration from a number of agencies to understand the critical roles that need to be played in these types of situations." 
For PVCC Paramedicine student Audrey Hajek, "The Honor Health Active Shooter Training was an invaluable experience that allowed insight into the interagency continuity of care that promotes successful management of unplanned disasters by merging prehospital and definitive care into a fluid transition towards stability. This exposure allows first responders to anticipate the needs of the patient and expedite critical care."
These opportunities afford PVCC paramedicine students to be actively engaged in a collaborative effort that brings together such agencies as the City of Phoenix, Scottsdale Police Department, Scottsdale Fire Department, Salt River Police Department, Phoenix Police Department, Maricopa EMS, Daisy Mountain Fire and Medical, Maricopa County Sheriff's Office, Priority Ambulance, American Medical Response (AMR), Aspen University and others.