Tuesday, October 25, 2022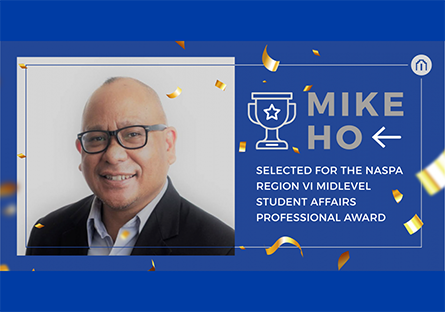 Congratulations to Mike Ho, Paradise Valley Community College's Manager of Student Life and Leadership, selected as this year's recipient of the NASPA Region VI Mid-Level Student Affairs Professional Award. This annual award is presented to a mid-level professional with at least five years of experience as a full-time professional in student affairs; one who has made significant contributions to their campus, their profession, and NASPA, a member-centered association for professionals working in the field of student affairs.
Ho, who has served as Student Life Manager since 2009, is trusted and respected amongst students, staff, and faculty alike, and has made a significant impact on PVCC's extended community.
"I feel lucky and grateful to work alongside Mike," said Dr. Jen Miller, Dean of Students. "Mike is a thoughtful and intentional student affairs professional, collaboratively leading multiple campus-wide initiatives to enhance our students' experience."
"Mike has most definitely brought more joy into my life… spending time with him is one of my top five best life experiences," said Steva Franci, PVCC student. "Mike deserves not only this, but every little tiny good thing that happens in life."
This award will be presented during the upcoming NASPA Western Regional conference in November. Qualifications for the award include demonstrating expertise in creating campus environments that promote student learning and development, and having professional responsibility for the direction, oversight, and/or supervision of one or more student affairs functional areas and/or one or more professional staff members.
"I am humbled to receive this honor because there is no part of my work that I do by myself," Ho said. "There are so many hardworking people at PV that are even more deserving; colleagues in Student Affairs, Club advisors, Facilities Services, the Fiscal Office, and FOI Leaders. This award is more of an acknowledgment of what we as a college can accomplish when we work together. I am only a connector."
Ho earned his bachelor's degree in Philosophy from Holy Names University in Oakland, CA, and his Masters of Education in Student Personnel Administration from Western Washington University in Bellingham, WA. Through his graduate assistantship, his primary area of research was multicultural and disability affairs.
Prior to working for the Maricopa County Community College District, Ho worked in a variety of fields including software consulting, multicultural career counseling, environmental education, and residence life. During his tenure with MCCCD, he has been the chair of the Wellness Committee, chair of the Maricopa Community Colleges' Diversity Committee, and President of the Asian-Pacific Islander Association. He has created partnerships across divisions and colleges through trusting relationships, mutual respect, and developing common purposes.