Wednesday, March 30, 2022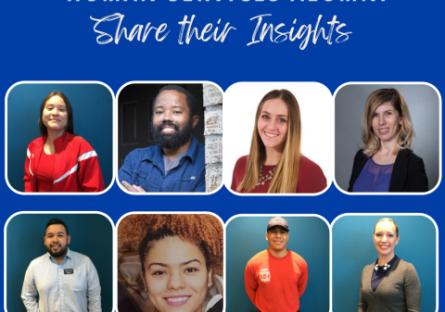 PVCC students got to hear from a panel of eight alumni and current students speak about their educational and professional journeys on Thursday, March 10th. 
The inspiring Panelists and their current areas of career focus:
Liz Abasta, Fire Academy Student
Hannah Hatch, Corporate Partnership Director
Audrey Hayek, EMT
Sara Kastrati, Rehab Specialist
Mario Marquez Guerrero, Education Advocate & Advisor
Michael Swann, Counselor
Adrianna Vargas, Social Worker
Anthony Vega, Fire Academy Student
The panelists shared their insight on the following questions.
Was there a key moment in time that influenced you in your career path? If so, please share. 
Hannah - I did some "floating" as far as career paths; tried personal training, account management, etc. and found that I most enjoyed coordinating and building relationships so that led me to my current profession.
Michael - Originally wanted to be a journalism major.  My mother got pneumonia so I switched from journalism to nursing. Helping professions really appealed to me. I later made the decision to go into counseling.
Adrianna - I was a student-athlete at PVCC on scholarship with the track team. I wanted to be a pediatrician but I wasn't very good at Chemistry. Todd Lehman, PVCC Track Coach, encouraged and helped me continue my track career on a full ride scholarship to Morgan State in Maryland. And then on to a career in social work. 
Anthony - I received a full ride scholarship to NAU. Upon completing my bachelor's degree I did a ride along with the Phoenix Fire Department and then decided to pursue a degree in Fire Science at PVCC. I enjoy this field because there is always something to learn.
What advice would you like to share for current students interested in Behavioral Sciences & Human Services related professions?
Mario - If you are interested in helping people, this is the field for you. See the pros and cons while you are young. Internships are very important to help you find which field is your fit. Internships will get you ahead and bring more opportunities. Both paid and unpaid.
Audrey - Get involved. This is the field of people. There is always the opportunity for learning. Start networking with others and keep your eyes open and stay open minded. Keep getting up.
Sara - Try different things and see what your strengths and weaknesses are. You'll learn who you are along the way.
Liz - Networking helps you build relationships with people that last a lifetime. No matter how many years you are in the field, you learn everyday. Also, don't be afraid to reach out for help.
There are many different career paths in the Behavioral Sciences & Human Services profession. How would you advise students on how to choose their path?
Mike - Utilize the resources available to you at the college to explore your interests. Additionally, my Mom and counselors at PVCC were very helpful and supportive. I love counseling so I also volunteer in this area. Think about what you like to do even if you aren't getting paid for it. 
Adrianna - You have to have a passion for what you are doing, especially in this field, as burnout is real. It is easy to take on a lot of people's problems in my line of work. Be sure to follow what you love to do. Volunteer in different areas to help you figure out what you want to do.
Anthony - Pursue what you want to learn. I wanted a profession that offered change and something new and fire fighting provides that for me. Education is a big part of my life. Wake up every morning thinking this is what I love to do. I rode along with the Phoenix Fire Department for almost a year and discovered I liked talking to patients and helping kids.
Hannah - Always choose a direction and not a destination. Network and talk to people as much as you can. Start to figure out a direction that fits you best and you feel passionate about. Take advantage of internship opportunities and don't be afraid to have a list of questions.
Is there anything you would have done differently on your educational journey? If so, please share.
Liz - I did not have many regrets. I red-shirted twice to allow for more physical growth. I tried to learn more about myself. Get involved; I joined every club that would accept me.
Audrey - After four years at a university, then I went to a community college. As a result of a physical disability, I had to leave my dream job of police work. I had to rebound. I needed that career exploration time. I did not have an advocate and suffered by myself. Then I learned that I had a learning disability. I had to accept it and reach out for support. I wish I would have advocated for myself sooner.
Mario - As a first generation college student, not knowing how to do things was challenging. I would apply for more scholarships. Don't get discouraged if you don't get a job or a scholarship.. Don't let that be a barrier. Failure is normal. You don't have to be a straight A student. If you know your goal, you will accomplish it.
What do you know now that you wish you had known before you chose your career path?
Adrianna - Networking is key. So are internships. It took awhile to get into my career.
Anthony - Learn to communicate with people. Don't be scared of public speaking. Be open to new things and everything that's offered to you. 
Hannah - Get involved. There is so much out there as far as jobs and possibilities. Ask to meet with people. If you do not have time to do an internship, volunteer.
Mike - Networking is important. You want to explore how you see yourself as a careerist rather than just a student. Be able to go into a room with confidence and say I'm here, I have a voice, make your ideas known. Focus on your communication skills. Participating on the PVCC Track Team helped me develop my confidence.
What was your biggest challenge in your educational journey and what did you do to overcome it?
Audrey - Embracing my learning disability and not advocating for myself. Time management. I learned to make connections with my various careers and embrace who I am.
Liz - Know your environment, who you are around and how you can learn from it. The company you keep can have a significant impact on your attitude and approach to life. Sometimes the path is rocky so find healthy ways to cope with challenges.
Mario - My parents were sent back to Mexico when I was 16. I felt alone and my life completely changed. I had to make a tough decision to stay and continue my education or return with them. There are many barriers in life. The sky's the limit and expect the unexpected. 
How have your experiences at PVCC either directly or indirectly impacted the work that you do?
Hannah - I took a wide range of classes to figure out what I wanted to do. Take the opportunity to do exploration while at PVCC. Get to know professors, network with them and use them as references as you pursue opportunities. My experiences at PVCC contributed to the work that I do now building corporate sponsorships.
Anthony - Through my participation in the Fire Science program here at PVCC I have learned that Phoenix Fire Department is where I want to go upon completion of the program. It has been an opportunity to showcase my leadership and what I am capable of.
Michael - The counseling I received at PVCC was so great. I am grateful for the work ethic and values I learned at PVCC. I still use study habits I developed at PVCC. Work hard and believe in yourself and what you are doing.
Adrianna - I didn't know how to pay for college. I wasn't planning to go to college. I was introduced to Coach Todd by my rival from another high school because she went to PVCC. Once I got to PVCC, I was still confused about how I was going to pay for school. And then the scholarship came about. I wouldn't be where I'm at now if it wasn't for PVCC giving me a chance. I learned a lot and PVCC definitely impacted my job now.