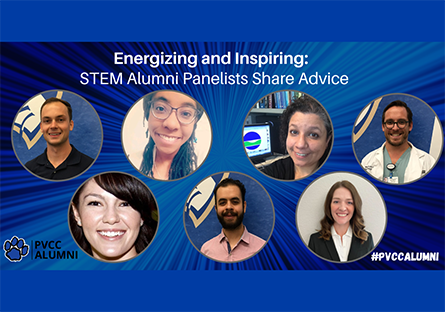 The energy and inspiration our STEM Alumni Career panelists shared with students was palpable. In hearing the panelists' educational and professional journeys, students better understand their own next steps, which is a crucial aspect of any career discussion. One student wrote about her key takeaway, "Everyone who spoke provided me with a great deal of sound advice and motivation to move forward and not give up. And this is how it is: we must not allow ourselves to be defeated because, if we do not make any mistakes, there will be no opportunity for us to learn anything."
The panelists and their diverse career paths: 
Anthony Carli - Physician's Assistant
Christian Coleman - Anatomy and Physiology Lab Instructor
Sarah Gore - Medical School Student
Jasmine Hinton - Physics Student
Makram Jreissat - Software Engineer & Entrepreneur
Aziza Kidari Rodrigues - Entrepreneur & Student
Ona Papageorgiou - Chief, Mobile Sources & Climate Change Planning
Sharing the insight and inspiration of the panelists:
Was there a key moment in time that influenced you in your career path? If so, please share.
Anthony - While working in D.C. as a lobbyist (political science major in college), he witnessed a terrible accident in which a person was severely injured. He realized that he did not have any idea what to do to assist this person until medical help arrived. This was his "aha" moment in which he decided to switch careers and pursue a career in medicine. He did not know if he was capable of this pursuit as he had struggled with science in high school. This meant he returned to school as a non-traditional student while working full-time. He dove into science and math coursework which he had avoided in his initial degree. His professors kept pushing him to stay on track. Without the support and education he received through the Maricopa Community Colleges, he would not be where he is today as a Fellow at Banner MD Anderson Cancer Center. 
Aziza - Upon learning that she would soon become a mother, Aziza decided it was time to pursue an education that would enable her to support her son and make educated medical decisions for her child. She also wanted to set an example for her son. Becoming responsible for another human life sparked her passion to pursue a science degree. She took a break from school and now she is back to pursue a degree in Psychology.
There are many different career paths in the STEM related professions. How would you advise students on how to choose their path?
Anthony - Have a super open mind. Just be interested and take classes in the STEM field. There are so many nuanced opportunities out there in this field. Keep an eye on the end goal but remain open. Be a sponge. Be open to growth and take opportunities to take inventory of what is available. Be curious and poke around. 
Aziza - Take advantage of the myriad of resources available. Go above and beyond what the lecture and labs require of you. Volunteer in the labs, too.
What do you know now that you wish you had known before you chose your career path?
Aziza - I still value all of my experiences at PVCC and I continue to volunteer in Dr. Durandet's lab.
Anthony - Take care of your mental health. Upon receiving a diagnosis, he was able to better understand and work with his abilities moving forward. Take advantage of counselors and their support. Reach out for help on how to study. Incrementalism is the most powerful force for change. Set bite-size goals that you know are accomplishable. Keep oriented in your major direction. Stay on the page; one step at a time.
How have your experiences at PVCC either directly or indirectly impacted the work that you do?
Christian - He did not finish high school. PVCC was critical to his ability to move forward to realize his educational and professional goals. Without a GED, he needed an education provider who would accept him as is and that was PVCC. Dr. Thomas was so passionate about science and her passion drew him deeper into science. He was a Teaching Assistant for her which enabled him to grow my leadership skills.
Ona - "You can not beat the passion of the professors at a community college." Her experience at PVCC of going to the college president to voice the need to add organic chemistry to the curriculum provided her with a sense of empowerment. This was a gargantuan ask and yet the request was met with action on the part of the college leadership. "Grasp for empowerment wherever you can and hold on to it."
Jasmine - My experiences at PVCC taught me how to network with people and maintain good relationships. They also taught me organization, how to destress and work in environments where I can put in 100% effort. Indirectly, I learned more about myself, and that I am capable of achieving things that previously I didn't think possible. I learned how to keep going after failing over and over again. It's made a difference for sure in my career path because I don't fear failure nearly as much as I had. 
What advice would you like to share for current students interested in the STEM related professions?
Christian - I want to break the stigma of community college. The academics are every bit as good as the university. Be open minded - find one thing to anchor yourself to. His was an interest in lifestyle related disease. This is what anchored him - his desire to empower patients as part of their health and wellbeing is the lifestyle and behaviors they choose.
Ona - Core classes she took at PVCC helped her and projected her forward. Embrace the principles of STEM: stay curious and keep an open mind. Embrace mistakes. Find a group that also embraces mistakes. Sharing a mistake shows immense strength. Never say never as your path often leads you in directions you don't anticipate.
Jasmine - Three things I can think of: First, do not be afraid to fail. It's going to happen. You're going to make mistakes, you're going to make the wrong move. Own it, learn from it, and keep going. Second, talk to people, make friendships in your profession, don't be a loner 24/7. Yes we are all busy these days, but take time out for your family and friends - it's good for your mental health, it's almost like therapy. Third, be active - find a sport or some type of exercise routine to enjoy and get you out of your chair for an hour or two a day. 
Is there anything you would have done differently on your educational journey? If so, please share.
Mak - 1) Use this as your playground to discover what you like. Use your time at PVCC as a platform. It does not cost a lot to make a change. I pursued Civil Engineering and then found out I didn't like it and switched to software engineering. 2) Use your resources. 3) Leave your mark. I took on a special project of creating a STEM Panel in 2017 and this event has continued to thrive at PVCC and now I am a panelist as a PVCC alum. I am really proud of that.
Sarah - Take advantage of the professors and find out what they do outside of the classes such as research and/or special projects.
What was your biggest challenge in your educational journey and what did you do to overcome it?
Mak - Know your capabilities and your limitations. Every person has a different perspective. Experiment and find out what you can do.
Sarah - Transferring was her biggest challenge. In transferring out-of-state some of her credits did not transfer which set her back. She ended up at PVCC to take science classes after her time at the university. "Learn to embrace what life is throwing at you."
In closing, please share one last piece of advice.
Christian - Once you identify a direction, immerse yourself. Develop relationships with faculty; go to office hours; make opportunities for yourself. Set the foundation with people so you can come back later for advice and letters of recommendation. 
Mak - look around and think about all the things people have invented. You are unique and capable. Believe in yourself. If you believe in it - just do it!
Anthony - Three things: 1) deliberate practice, 2) practice humility, and 3) have patience with your growth. If you identify something you want to do you will get better with practice.
Ona - Follow your passion. Explore: What gives me energy at the end of the journey (noting that sometimes during the journey there may be challenges)? Ask yourself, "Do I feel energized by what I have accomplished?" Be patient with others. There is a lot of inequity out there. Keep pushing on your own path. "Be very generous of your assumptions of others." - Brene Brown quote
Sarah - Find what excites you. Don't let others tell you no. Don't let you tell yourself no. You deserve to have an exciting life.
Aziza - Never ever give up! If you fall down seven times, get up eight times. Life is full of obstacles and barriers and you are capable of overcoming them.