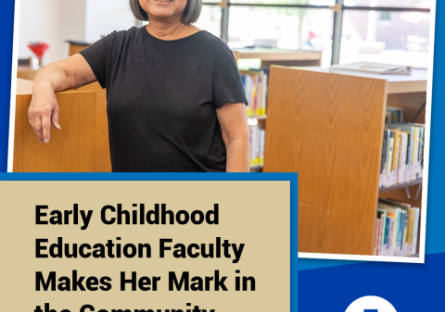 From a young age, Ana Maria Albano Trejo Stigsson was destined to work with children. Growing up the youngest of seven to her immigrant Filipino father and Mexican mother in the Golden Gate Barrio of South Phoenix, Stigsson took on many challenges to change the possibilities available to the community.
"There was a stigma surrounding people from my area that we wouldn't go far or make something of ourselves," Stigsson explained. "I was determined to prove them wrong."
Stigsson shared that she married young, and while staying home with her four children decided to provide childcare for more children, setting a course for her lifelong work.
Stigsson received her associate's degree from Paradise Valley Community College's sister school Glendale Community College. As a result, she became involved with Head Start, a comprehensive federal program that serves eligible young children from birth to age five and their families. The Head Start program includes early childhood programming, health, nutrition and social services, as well as family empowerment.
"My associate's degree really opened doors for me," she said. "It helped me to obtain positions in programs that set me up for success, Head Start being one of them, which paid for my education and gave me my initial experience in early childhood education."
After earning her bachelor's at Arizona State University West in Integrated Studies with an emphasis in Early Childhood Education (ECE), Stigsson banded with a small group of Head Start colleagues, who together, became the University of Phoenix's first cohort in ECE and graduating class to earn their master's degree.
The 18-month program was rigorous and challenging, but opened doors for Stigsson and her colleagues. "If it weren't for us carrying each other and supporting each other through the program, I'm not sure we would have finished," she said, explaining that they were all juggling work, family, and full-time school.
Stigsson has taught in Early Childhood programs for the Foundation for Blind Children and Lincoln Learning Center at John C. Lincoln Hospital. She has studied internationally in Aotearoa/New Zealand, Canada, and Italy, continuing to expand her global knowledge and understanding of ECE.
"Ana brings great joy to this work," said Christie Colunga, ECE faculty. "We all benefit from her extensive experience and deep knowledge of the field. Her enthusiasm and advocacy for the well-being of children, their families, and our wider community is inspirational. She is tireless in her commitment to ensuring  early childhood educators have every opportunity possible to complete their educational goals. We can all support her in her life's work. Share an Ana Stigsson story and you will have inspired someone." 
Today, Stigsson is a full-time faculty at PVCC sharing her passion for ECE with all her students.
"I really try to motivate students and help them understand that there is so much you can do with this degree; so many paths you can take," Stigsson said. "Working with young children is such an important and impactful role; supporting their growth and development. The sky's the limit and I really want students to realize what a viable, vibrant career is before them."
As part of her commitment to the program and ECE students, Stigsson represents higher education on the First Things First Phoenix North Regional Partnership Council. She specializes in advising and supporting PVCC ECE students with accessing federal and state ECE grants and scholarships available to  individuals working or volunteering  in the field.
Learn More About ECE
PVCC's ECE program is a tight-knit community, committed and connected to each other. Three of PVCC's adjunct faculty are prior students who went on to complete their bachelor's and master's programs and one doctoral degree and were invited to return to PVCC. 
PVCC offers three distinct ECE Associate degree programs: 
Associate of Applied Science (AAS) in Early Childhood Education
Associate of Arts (AA) in Early Childhood Education
Associate of Arts (AA) in Education/Early Childhood Emphasis
Early childhood educators have an array of opportunities working with young children and families in many different programs such as:
Home visitors
Paraprofessionals
Teachers
Recreational leaders
Directors
Curriculum specialists
Professional development specialists
Administrators
Additionally, many entrepreneurs in the field often open their own early childhood programs at home and within the community. 
To learn more about the program, visit Early Childhood Education | Paradise Valley Community College or call Ana at 602-787-6790.