Monday, September 26, 2022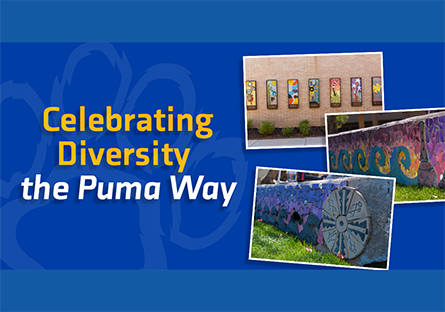 At Paradise Valley Community College, we are committed to recognizing and reflecting diversity and inclusion for our students, faculty, and staff, as well as the community that surrounds us. By embracing equity, engagement, inclusion, and innovation, we can positively impact not only our surrounding community but society as a whole. It takes time, but little by little, we are working diligently through multiple platforms to do just this.
Engage and Educate
PVCC's Diversity, Equity, Inclusion and Engagement (DEIE) committee, comprised of dedicated faculty and staff volunteers, have ambitiously hosted a variety of sessions including Civil Dialogue Moderator Training, Trauma-Informed Care, creating Culturally Safe Spaces for American Indian Students, Race Literacy, Anti-racism, and the Intersections Between Gender and Race, Mental Health First Aid, and Safe Space Training. And we're just getting started.
Remembering Through Art
The Union Hills campus, located in northeast Phoenix, spotlights distinguished art across the college, including an Indigenous public art project commemorating the tribal land on which PVCC was built. Native American artists collaborate with a team of PVCC faculty, staff and students to create this one of a kind ceramic tile mural. Additionally, the college's Buxton library is home to rare Chinese artifacts and sculptures of ancient Chinese warriors, full-size replicas of the famous terracotta army created to protect emperor Qin Shi Huang in the afterlife. To learn more about many of PVCC's points of pride watch this amazing aerial tour.
Celebrating Our Differences to Bring Us Together
PVCC's enhanced Heritage Month events have also taken top priority including insightful panel discussions and programming for Black History Month, Hispanic Heritage Month, Native American Heritage Month, and Women's Herstory Month. PVCC officially and formally added celebrations of Asian, Pacific Islander, and Indian Heritage Months and Pride/LGBTQIA+ in 2022 as well.
Get Involved Today!
PVCC's three-day Club Rush organized by Student Life takes place each fall and spring at the beginning of each semester. It is a great way to expose students to the multitude of groups here on campus. The event attracts hundreds of students each semester and acts as a gateway for newcomers to get involved, follow their passions and find their people.
Here are a few examples of how PVCC is reaching our extended community.
Student Life hosts quarterly food distributions in partnership with St. Mary's Food Bank, serving more than 700 families in the community.
The International Film Festival debuts films from around the world that otherwise not come to our attention. It is held twice a year, attracting hundreds of viewers.
Entrepreneurship and Innovation Week features entrepreneurial leaders from PVCC and across the Valley, discussing the dynamics and impact of innovation and entrepreneurial thinking in arts, finance, law, service learning, health sciences, information technology, economics, career management, and business.
To learn more about how PVCC is working to build and improve our campus culture and community, visit our website.