Tuesday, November 1, 2022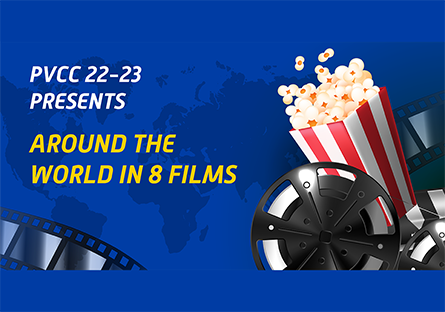 Paradise Valley Community College is excited to welcome back to campus this year's International Film Festival -- "Around the World in 8 Films." The Film Festival returns to our treasured Center for the Performing Arts, August 31, 2022 through March 8, 2023, located at 18401 N. 32nd Street in Phoenix. As in years past, admission is free and open to the public. Doors open at 6 p.m. and each film begins promptly at 6:30 p.m. A post-film discussion will take place with Gary Zaro, director of PVCC's Film Festival.
Check out the trailers below and bring your friends!
August 31, 2022
In the Mood for Love (PG; 2000, Hong Kong, 98 minutes)
It's 1962 in Hong Kong. Chow Mo wan and Su Li zhen move into neighboring apartments on the same day. Their encounters are formal and polite—until a discovery about their spouses creates an intimate bond between them. In the Mood for Love is a masterful evocation of romantic longing and fleeting moments. Watch trailer
September 14, 2022
Longing (NR; 2017, Israel, 100 minutes)
Ariel, a well-off, childless man gets a phone call from his college girlfriend. She needs to tell him a couple of very surprising things: first, when they broke up twenty years ago, she was pregnant and went on to have a lovely boy. The second thing will make Ariel explore the hidden aspects of parenthood and change his life forever. Watch trailer
September 28, 2022 - Double Feature
The Tulip: A Timberwolf's Story (NR; 2022, U.S., 6 minutes)
A short film, about a soldier of the 104th "Timberwolves" Division who finds himself under attack with nowhere to go. Trying to survive, he finds a gift that gives him the will to keep fighting. Based on a true, heartwarming story of courage and compassion.
Secrets of War (NR; 2014, Holland, 95 minutes)
Tuur and Lambert are best friends in a Nazi-occupied Dutch village who pass their days playing soldiers and exploring local caves, mimicking a war that seems far removed from their everyday life. When Maartje joins their class, the young girl immediately stands out as different from her classmates. Yet the boys embrace their new friend, forming a unique bond based on shared adventures, secrets and mischief. Ultimately, the realities of war find them, and puts both the danger and the humanity of wartime friendships squarely on the shoulders of three children who must face extraordinary circumstances with a maturity far beyond their years. Watch trailer
October 12, 2022
Ida (PG-13; 2013, Poland, 88 minutes)
Anna, a sheltered orphan raised in a convent, is preparing to become a nun when the Mother Superior insists she first visit her sole living relative. Naive, Anna soon finds herself in the presence of her aunt Wanda, a worldly and cynical Communist Party insider, who shocks her with the declaration that her real name is Ida and her Jewish parents were murdered during the Nazi occupation. This revelation triggers a heart-wrenching journey into the countryside, to the family house and into the secrets of the repressed past, evoking the haunting legacy of the Holocaust and the realities of postwar Communism. Watch trailer
January 25, 2023
In Order of Disappearance (R; 2014, Norway, 115 minutes)
When a father uncovers his son's murder, he begins to unravel. Once an upstanding citizen, Nils embarks on a blood-thirsty quest for revenge that escalates into a full-blown international gang war. With darkly funny humor reminiscent of Tarantino and The Coen Brothers, Nils finds himself caught up in a world not his own, surrounded by drug traffickers, con artists and kingpins, in order to bring his son's murderers to justice. Watch trailer
February 8, 2023
Barbara (PG-13; 2012, Germany, 105 minutes)
In East Germany, 1980, Barbara Wolff is a young doctor who has applied for an exit visa from the GDR and, as punishment, has been transferred from her prestigious post in Berlin to a small pediatric hospital in the country. She must weigh her absolute dedication to her patients against a potential escape to the West, and her newfound attraction to a doctor in whom she sees a kindred spirit. Watch trailer
February 22, 2023
Love Me (NR; 2013, Turkey/Ukraine, 90 minutes)
Sprinkled with hilarious as well as heartbreaking notes of cultural clashes and an endearing display of the kindness of strangers when a Turkish man goes to Kiev for his bachelor party and meets a beautiful and captivating Ukrainian woman. This idiosyncratic "romantic comedy drama" will warm and touch hearts in the most unexpected ways. Watch trailer
March 8, 2023
Hero on the Front (NR; 2018, Portugal, 85 minutes)
The true story of a Portuguese soldier, who got stranded from his unit during the La Lys battle in World War I, struggles by himself through dozens of German offensives so he can guarantee the safety of his companions, and the adjustments he has to make after the war, especially with his relationships with his wife and daughter. Watch trailer
For additional information and events, visit PVCC's events page.