Wednesday, December 8, 2021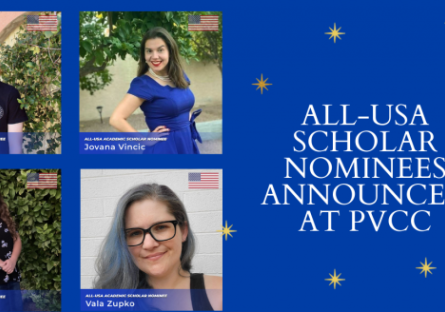 Paradise Valley Community College recently announced the recipients of the 2020-2021 All-USA Scholar Nominations - Jovana Vincic, Vala Zupko, Donovan O'Neal, and Ashley West.
All four PVCC students chosen for the award demonstrated academic excellence and intellectual rigor combined with leadership and service that extends their education beyond the classroom to benefit society. The four PVCC representatives - two from the college's Union Hills campus and two from its Black Mountain campus, will go on to compete against other community college nominees for the Phi Theta Kappa recognition.
"This distinguished honor includes a two-year tuition scholarship award to any instate public education institution of their choosing," said Jenny Neujoy, Honors Program Director. "I am so proud of these students for going above and beyond what is expected in the classroom and making a significant, valuable impact and contribution to their community."
When competing against other local nominees, the students will be ranked in teams - first, second, and third. Arizona's first team winners will go on to compete on the national level, at which additional scholarship monies will be awarded. Each student's endeavor project, which is a community-based project, will have a large impact on how the competition is scored.
"Criteria for the scholarship award includes a really strong academic background, but most importantly how a student uses what they've learned to give back to the community," said Neujoy. "I encourage our incoming freshmen students to begin thinking about their endeavor project now. It's never too soon for students to begin actively participating in their communities and determining what they want to achieve."
Below we champion our four Puma All-USA Academic Scholars and their chosen endeavors:
Jovana Vincic
Joanna Vincic is studying Peace Studies with an emphasis on Social and Cultural Analysis, and hopes to focus on world issues including forced marriages when she graduates. She is also a peer mentor for PVCC.
"I grew up in countries at war, and I began thinking more about what other girls and women were experiencing that prevented them from living their best lives. I want people to live in peace - this may sound like an unrealistic dream, but I believe we must work toward our ideals."
Vincic's endeavor project focused on leveraging the United Nations' leadership to gain opportunities for students interested in making a difference in the world to gather. With International Day of Human Rights, Vincic built annual programming leading up to and including the International Day of Human Rights at PVCC.
"I worked with faculty and Club Z to offer a virtual experience where students in classes reflected on their ideals for human rights and chose whether to think about local, national, or global communities, culminating in a virtual session for students to learn about the UN and to share their diverse perspectives with one another."
Vala Zupko 
Vala Zupko is majoring in fine arts and envisions her artwork eventually being on display in galleries and art shows. She hopes to earn her master' degree working in a community college setting or a community center, inspiring others to learn the possibilities of art through ceramic application the way she did.
"The moment someone has their 'ah hah' moment of being able to master a technique or an art form is one of the most precious and special moments to be a part of," said Zupko.
Zupko chose a virtual living library entitled "Struggles, Disabilities, and Mental Health" for her endeavor project. The Living Library event allowed people or 'books' to share their stories with others to help them see life from a different point of view and to help facilitate understanding between people with different life experiences.
"I felt an event like this might help give people experiences they might not have otherwise," she said.
Donovan O'Neal
Donovan O'Neal is a business major and has dreams of participating in multiple start-up companies in the retail and e-commerce space in various capacities with the end-goal being, running his own start up.
"While working on building my career and skill set, I want to begin working on my own start up," O'Neal said. "I envision my business being built while maintaining sustainability and labor ethics, and deterring from the usage of fast-business practices."
O'Neal, who already had experience starting two businesses, applied this passion and experience to his endeavor project, hosting a 'Start Now on Your Start-Up' two-day event at PVCC. The event was held virtually through various online meeting applications.
 "I noticed there were limited events geared specifically towards start-up entrepreneurship, and I saw first hand the large amount of layoffs due to the pandemic and how they wanted to ditch the 9-5 job that left them behind. People are wanting more for themselves and their families, but don't have the resources, tools or assistance to do so. Most events are costly, closed to the public and geared towards people already familiar with entrepreneurship and scaling their business. I created an event for 'aspiring entrepreneurs by entrepreneurs.'"
Ashley West
Ashley West is also a PVCC peer mentor and a biological sciences major with goals of obtaining her bachelors degree in Veterinary Science. As part of her plan, West intends to volunteer at animal shelters and the local zoo to further her knowledge about animal behaviors across a wide spectrum of species.
For her endeavor project, West focused on peer mentorship.  The pandemic and online classes made for a tough learning environment, especially for first year students. Ashley worked as a peer mentor for general chemistry to assist students.
"More than likely, a vast amount of these students never had the in-person college experience, so I stepped up and provided support and assistance to these students," she said.