Wednesday, January 27, 2021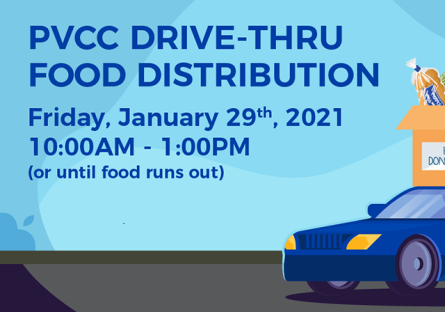 Since 2018, Paradise Valley Community College has been home to monthly food distribution drives for students and the surrounding community. As part of the college's commitment to promoting positive social change, the Office of Student Life and Leadership, in partnership with St. Mary's Food Bank is helping to make a difference.
"Faculty, staff, and members of PVCC's administration have made such an impact on our community drives, demonstrating their commitment and volunteering their time to help make each event successful," said Mike Ho, Student Life Director.
PVCC Student Jovana Vincic added, "Volunteering is the ability to donate love to make positive social changes. As a volunteer, I've learned that every day is created to shine a light on solidarity."
The mobile food distribution feeds on average 600 to 700 individuals, about 150 families monthly. Items include various fresh produce, on occasion canned goods, potatoes, eggs, milk, butter, cheese and a variety of snack options. The November 2020 drive even had Gatorade, and although the team never knows exactly what donations they will receive, it always includes quality products.
"In a time where many are struggling to pay the bills and put food on the table, this program has been a saving grace, helping to ease the burden if just a little bit," said Sam Tea, Student Life Program Specialist.
"The ongoing pandemic was not a time to scale back on helping the community, rather we intensified our efforts," said Ho. "Anyone coming to campus - whether it be to vote, receive COVID testing, or attend a food distribution drive, will instantly feel our commitment to this community."
Before the pandemic, PVCC's food drive was held twice a month. Until students are back on campus, the staff will be distributing food once a month. The first drive of 2021 will be held 10 a.m. to 1 p.m. this coming Friday, January 29 at PVCC's Union Hills campus, 18401 N. 32nd St. in Phoenix. The event will be held rain or shine. Follow us on social media so you can stay informed on monthly distributions as well as other events happening in and around campus.