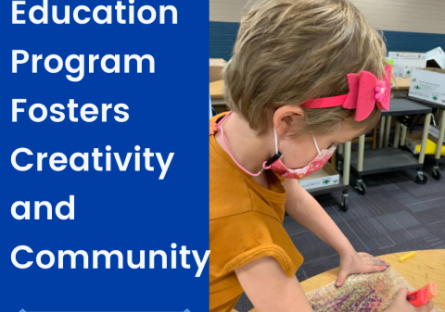 The PVCC Early Childhood Education (ECE) program is engaging in a year-long study of creativity and imagination. The results of the study will help reinvent the Early Childhood Education program.
With this bold thinking in mind, in Fall 2020, the ECE program initiated virtual field experiences with PVCC ECE faculty and Paradise Valley Unified School District elementary school teacher Sena Ceklic and PVCC ECE student and lead two-year-old teacher at Developing Minds Academy Kendall Fowler.
The field of Early Childhood Education is committed to the health, safety, and well-being of our community above all else. Because of current health protocols, ECE students have not been able to observe in person, therefore, the connections with Sena and Kendall are vital community relationships. With these adjustments, the ECE program has continued to keep true to their practice of inquiry-based curriculum development.
With this practice in mind, materials were mailed to the PVCC students and the same materials were shared with Sena and Kendall. PVCC students tried out the materials and made suggestions to Sena and Kendall on how to offer these same materials to children. Then Sena and Kendall each decided how they were going to offer the materials to the children and documented what happened. The results of the project were shared with PVCC students who were able to study the outcome of these virtual and in-person exchanges.
In collaboration with Sena, the students selected unconventional mark-making tools such as fluorescent highlighters and metallic sharpies and supports such as bubble wrap and black paper to learn more about kindergartners' approach to creative use of unconventional materials. For example, participants learned from kindergartner Emily's observation about highlighters and bubble wrap, "I think it only works with a highlighter, so I'll just do it with a highlighter." And, "Look, I want to show you this! When you do this, it makes it bubbly and dark!"
"We found creative thinking by both the children and adults. Our connections with current faculty and students working in the community are the impetus for continued learning and creative solutions during this challenging time," says Christie Colunga, PVCC Residential Early Childhood Education Faculty. "Our work is complex as young children deserve no less than the best and most highly educated adults in their life. In this experience, kindergartners, Emily and Princeton, certainly captured our hearts and minds."