Thursday, November 4, 2021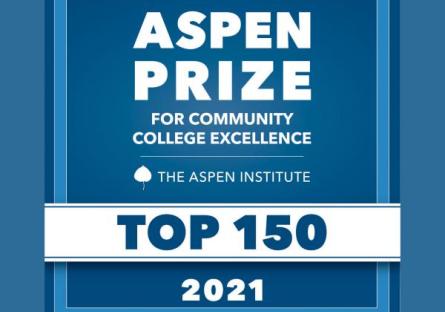 As we all know, Paradise Valley Community College (PVCC) is dedicated to enhancing the student experience while staying relevant and re-imagining how we deliver teaching, learning, and student support in a world that is constantly changing.
And today, we have a reason to celebrate our progress towards this goal. Paradise Valley Community College (PVCC) has been recognized as one of the nation's Top 150 Community Colleges by the Aspen Institute, and is eligible to apply for the 2023 Aspen Prize for Community College Excellence. The $1 million Aspen Prize for Community College Excellence, awarded every two years, is the nation's signature recognition for America's community colleges.
Even more importantly, PVCC, which has earned this recognition biennially since 2013, is the only community college in Arizona to achieve this distinction this year. The colleges selected for this honor stand out among more than 1,000 community colleges nationwide as having high and improving levels of student success as well as equitable outcomes for Black and Hispanic students and those from lower-income backgrounds.
"PVCC's faculty and staff's unrelenting efforts to further active and engaged learning with a strong student support component is the driving force behind this national recognition," says PVCC President Dr. Paul Dale. 
The Aspen Institute evaluates various criteria in its selection process and validates the levels of active and engaged learning in the classroom and the progress PVCC is making with the implementation of Guided Pathways (link).
1) First-year retention rates
2) Graduation rates 150 percent normal program completion time
3) Improvement of student success rates over time
4) Graduation rates of underrepresented minority students
5) Graduation rates of low income students
For a full list of the top 150 eligible institutions and to read more on the selection process, visit www.highered.aspeninstitute.org/aspen-prize.
The Aspen Prize is generously funded by Ascendium and the Joyce Foundation.
The Aspen Institute College Excellence Program aims to advance higher education practices, policies, and leadership that significantly improve student outcomes, especially for the growing population of low-income students and students of color on American campuses. For more information, visit www.highered.aspeninstitute.org and www.linkedin.com/showcase/aspenhighered, and follow @AspenHigherEd on Twitter. The Aspen Prize hashtag is #AspenPrize.
The Aspen Institute is a community-serving organization with global reach whose vision is a free, just, and equitable society. For 70 years, the Institute has driven change through dialogue, leadership, and action to help solve the world's greatest challenges. Headquartered in Washington, D.C., the Institute has offices in Aspen, Colorado, and New York City, and an international network of partners. For more information, visit www.aspeninstitute.org.