Wednesday, August 12, 2020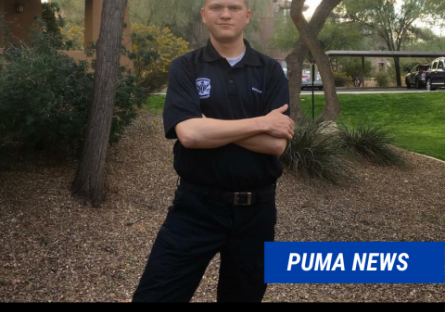 The outbreak of COVID-19 required the hands-on programs at PVCC to implement quick and creative problem-solving in order to help students complete the semester and, in some cases, their programs. The Paramedic Program Director Kevin Taussig and former program director, Bob Dotterer, utilized a combination of technology and in-person techniques to engage students, including the use of iPads, offering online tutoring and the construction of a mini-lab, utilizing existing space on campus.
"With the outbreak of Covid-19, it became necessary to push the boundaries of technology to engage our students and enable them to complete the program. When the pandemic hit, we were able to have a mini-lab constructed utilizing L-101," Taussig said. "This 'build-out' provided break-out rooms and an observation component to address the program's hands-on learning/instruction requirement."
Taussig explains that it is mandatory to monitor the students in class, so mobile cameras have been used. He and his team are working hard to plan for each scenario that could come up in the future. He exudes enthusiasm, passion and commitment for the success of the program. This does not go unnoticed by the students. Kyle Kane, 2020 Paramedic Program graduate, shared, "As we approached graduation with the pandemic unfolding and threatening our ability to graduate, there were many uncertainties. If it was not for the leadership and commitment of the program's faculty we would not have graduated until after the pandemic subsided. With their help and with a great program director in Kevin Taussig, we were able to complete our requirements."
Implementation of robust safety procedures was necessary as many of the students were actively employed in healthcare while completing this program. Taussig is quick to compliment the college administration's support through this process. "We are so fortunate to have such a caring and understanding administration and staff. Their support enabled us to give the necessary consideration to addressing PPE, social distancing and keeping in-person learning environments to groups of six to seven students."
Next year, there will be programmatic changes through Guided Pathways which will bring a uniform curriculum across the Maricopa Community College District. Delivery methodology may differ from college to college. The application process will change with the implementation of an online application and entrance exam. Panel interviews will continue to be a part of the selection process. "Our paramedic program is very competitive and there are always more applications than spaces available," Taussig said. The successful pivot of the PVCC Paramedic Program this spring bodes well for its continued success in providing well-trained and highly skilled paramedics for our community.