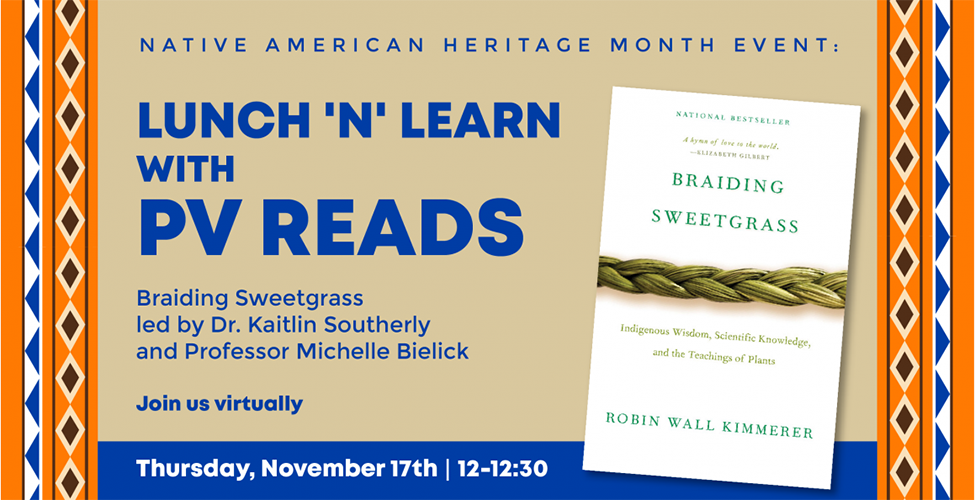 Meeting link meet.google.com/gsk-cjyu-pfd
(US) +1 346-808-1815 PIN: 148379763
PVCC proudly observes November as Native American Heritage Month and invites you to help us celebrate tribal cultures, accomplishments, and histories. Join our second Native American Heritage Month event, Lunch & Learn with PVReads. The discussion will be led by Dr. Kaitlin Southerly and Professor Michelle Bielick on the book the group is currently reading, Braiding Sweetgrass.
"As a botanist, Robin Wall Kimmerer has been trained to ask questions of nature with the tools of science. As a member of the Citizen Potawatomi Nation, she embraces the notion that plants and animals are our oldest teachers. In Braiding Sweetgrass, Kimmerer brings these lenses of knowledge together to show that the awakening of a wider ecological consciousness requires the acknowledgment and celebration of our reciprocal relationship with the rest of the living world. For only when we can hear the languages of other beings are we capable of understanding the generosity of the earth, and learning to give our own gifts in return." Synopsis of Braiding Sweetgrass by Goodreads
This event is co-hosted by the Center for Teaching, Learning, and Employee Engagement.
Questions? Contact Michelle Bielick michelle.bielick@paradisevalley.edu