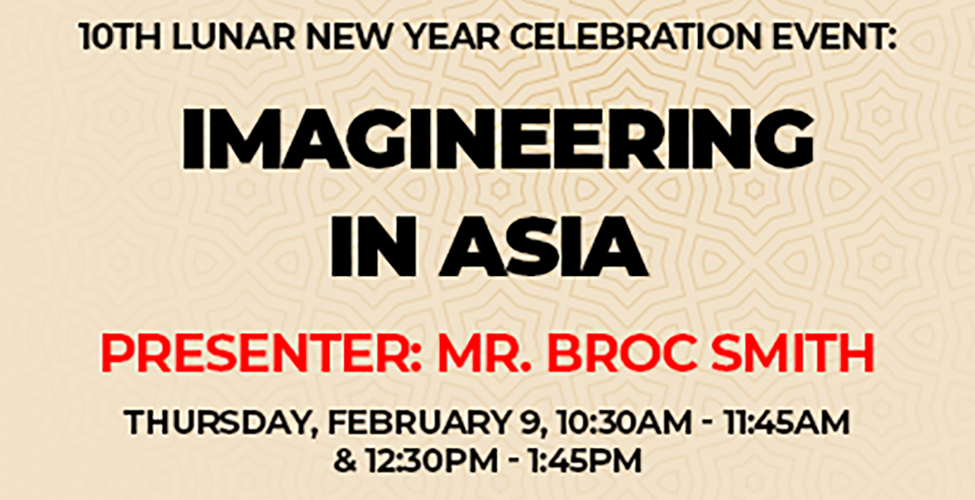 Presenter: Mr. Broc Smith
Join Paradise Valley Community College to celebrate the 2023 Lunar New Year.
Mr. Smith is a theatre-trained "hands-on designer/fabricator" with over 20 years of experience in theatre performance, costume, prop, stage design and construction before coming to Asia in 1993. Beginning with exhibitions and events in Singapore, he has been involved in designing world-class expos throughout Southeast Asia. He has helped to create and install China's first world-class water park in Shanghai, interiors for Asia's largest aquarium in Pudong, Shanghai, and was also a principal designer for Happy Valley Beijing, which is now part of the development of new Leisure Destination Concepts in China's domestic tourist market. Having worked in 8 countries, plying his craft, Mr. Smith has made several personal revelations that become the theme and point of his lecture. Walking through his development using various mediums, it becomes apparent that Mr. Smith represents every person's efforts in self-discovery.
This event is co-sponsored by the Buxton Library, PVCC Int'l & Intercultural Education Committee and DEIE Committee. For more info visit here