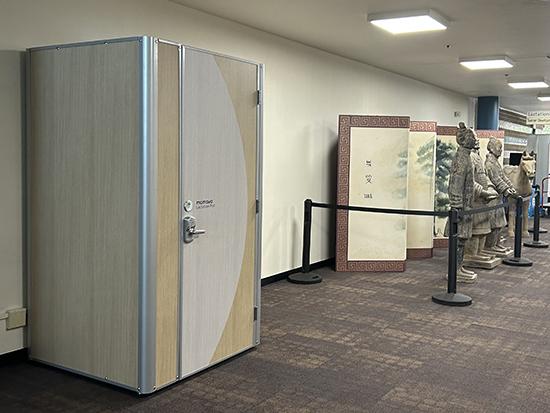 A Mamava lactation pod is provided at the Union Hills campus in E Building at the east end of the hallway. If you have questions please contact the Library located in E Building.
How to Access the Spaces
Use the QR code on the unit to download the app. Or click here https://www.mamava.com/find-mamava
After you register you will use the app to check if the unit is available, and unlock the door with the code. 
Resources
The Affordable Care Act states in part:
"Employers are required to provide a reasonable amount of break time and a space to express milk as frequently as needed by the nursing mother, for up to one year following the birth of the employee's child. The frequency of breaks needed to express breast milk as well as the duration of each break will likely vary. The space provided by the employer cannot be a bathroom, and it must be shielded from view and free from intrusion by coworkers or the public…. Employers are not required under the Fair Labor Standards Act (FLSA) to compensate nursing mothers for breaks taken for the purpose of expressing milk. However, where employers already provide compensated breaks, an employee who uses that break time to express milk must be compensated in the same way that other employees are compensated for break time. In addition, the FLSA's general requirement that the employee must be completely relieved from duty or else the time must be compensated as work time applies."
The State of Arizona does not have any additional requirements.
Federal Requirement Information
Storing Breast Milk while on Campus
Consider how you will store your pumped milk while you are on campus, an insulated cooler with ice packs is an acceptable method for keeping milk cool for use with healthy full-term infants.
Source: CDC Breastfeeding Recommendations
Arizona resources
Useful websites