Tuesday, October 24, 2023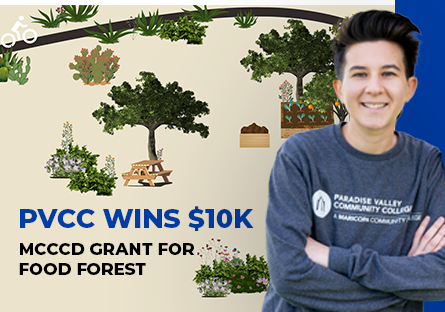 Paradise Valley Community College is one step closer to realizing a food forest on a 4.4-acre parcel of undeveloped land at the southeast corner of the college's Union Hills Campus. Awarded a $10,000 grant from the Maricopa County Community College District Sustainability Office, PVCC's own facilities and sustainability departments are eager to get started and intend to break ground in the coming months.
"I am really excited about the possibilities here," said Cali Mauri, a PVCC alumni and current facilities staff member whose leadership is key to the project. "This is a huge undertaking with so much potential. I can't wait to get started."
Mauri earned her associates degree in Sustainability and Environmental Studies in spring 2023 and is currently pursuing her bachelor's degree in Environmental Science at Arizona State University. She also works for PVCC's facilities department.
While studying at PVCC, Mauri began researching sustainability and the chemistry of composting for her Honors project. She shared her ideas with Facilities Supervisor Terri Siemer, and together they escalated Mauri's quest into creating a full-fledged food forest. Securing this grant, as well as a second $5,000 grant from Second Nature, was the first step.
"Cali has brought a lot to the table for this project with her passion, loyalty, and knowledge. The Food Forest has been all about her vision from the start and we are fully on board helping to achieve this goal for our community," said Siemer.
The Food Forest at PVCC will include:
Identifying local edible and useful indigenous plants to cultivate on the land.
Producing food for distribution to support student needs and sale in local farmers markets to members of the community.
Building community strength and social inclusion.
Promoting and supporting small-scale food forests in the backyards of local residents, as well as other undeveloped parcels of land in the community.
Addressing climate change through carbon sequestration and reducing
carbon pollution.
Serving as a model of sustainability and environmental consciousness for the Maricopa Community College School District.
The first phase of the Food Forest Project comprises developing a half acre of the parcel. Two garden beds will be built to plant vegetables after tilling the surrounding soil to make it suitable for desert vegetation including shrubs and trees. Mauri hopes to scale the project quickly adding a pathway and benches, as well as engaging PVCC's arts program for inspiration.
Additionally, the food forest will also offer a host of educational opportunities pertaining to science, education, sustainability, nutrition, and more for elementary, middle, and high school students. Students can complete labs for science courses using a garden/greenhouse structure that will be built, and instructors will be able to teach lessons onsite in the forest.
How You Can Help
Currently, PVCC is soliciting volunteer help to get this project underway, as well as donations to fund further development. Eventually, through donations and additional grant funding, the project will scale the entire 4.4 acres.
"I envision a place where students and community members from all walks of life can visit the gardens and become inspired," said Mauri. "All will be invited to participate in nurturing an ecosystem of native Arizona trees, flowers, and food."
For more information or to get involved, contact cali.mauri@paradisevalley.edu.